We all like to go on holiday, but leaving our cat can feel like leaving a member of the family behind. You may have a trusted neighbour who will take care of your cat while youíre away, but if you decide to leave them in a cattery you should choose it carefully. There are some simple points that you should keep in mind when looking.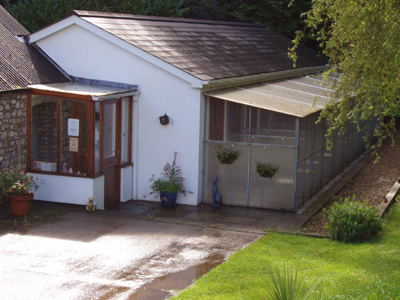 First of all it is extremely important that you view the cattery before using it so you know exactly what conditions youĎre leaving your cat in. If the cattery doesnít welcome viewings, donít use them. You need to see first hand where youíre leaving your cat as well as meet the people who will be caring for them.
Catteries that accept cats without the proper vaccinations should also be avoided. All cats should have had their initial injections for flue and enteritis as well as being up to date on their annual boosters. If any cats are taken ill while in the cattery there should be a quarantine area. Ask what facilities the cattery has for ensuring your cat wonít pick anything up while theyíre there.
You should also ask what security systems they have in place to prevent escapes. Cats can move a lot faster than we can and itís important that precautions are taken to keep them in. Find out if you will be able to see the cat into their room yourself on arrival, or whether they will be taken off you at reception. It is nicer for both you and your cat if you are allowed to get them settled in. If itís your catís first time it will be a very strange environment for them and it will help the transition if you yourself place them in their new surroundings.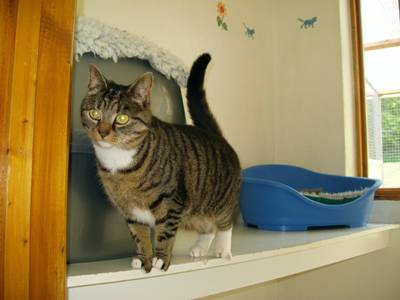 Itís very important that you ensure the room your cat will be staying in has adequate space and that your cat has enough privacy. If the doors to the rooms are mesh and easy to see through there will be no privacy. This will affect some cats more than others, but if your cat is particularly shy or nervous this is an extremely important issue to consider. Some cats react quite badly to being in close quarters with other cats, particularly strangers. Proper barriers will help to avoid this problem.
Of course each of the rooms should be heated in the winter. Try to find out what type of heating is used. If only the beds are heated the cat is likely to feel the cold when they get up to stretch their legs or to eat. Cats are creatures of comfort and itís important the whole room is heated.
It goes without saying that a good cattery should be clean and not smell. Food should not be left lying around and litter trays should not be left long before they are cleaned. If the place is dirty, donít use it.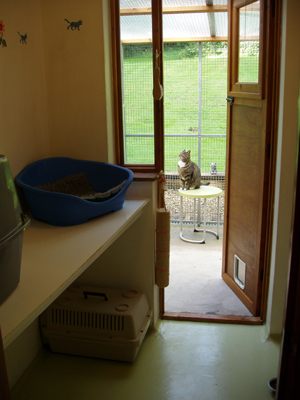 Make sure you check what the feeding schedule is. The cats should be fed at least twice a day. You might also want to ask if your cat will be able to eat their usual brand of food. This will help them to feel more at home and reduce the likelihood that they will refuse the food they are given. If your cat doesnít eat one of the more popular brands stocked by the cattery you should check if you will be able to supply the food yourself. Make sure that the cattery will be able to take care of any special requirements that your cat may have, be it a specialist diet, medication or grooming.
Last but by no means least, is your cat going to be treated with care? A little loving attention may be invaluable to helping your cat settle in, allowing you to enjoy your own holiday with the peace of mind that they are happy and enjoying a holiday all of their own.